Last updated 3/29/2010
Preliminary interviews with Michael and Kevin, with some added information from Barb and Louise, got us to this point. :***** in the history below means I need help on the dates, or other information. Please, if you have any memories or stories about the band, help me out. 200 heads are better than one. Go back to the bottom of the Main Gig Page and e-mail the GigMaster. Remember to include dates for your anecdotes and memories if you can. Even statements like "I remember it was around the time that so and so got married...." will help. Thanks.

Most recent help came from Gegory Baka .
Jump to:
At around the age of 18, Michael Smith left the U of M and hitched out of Ann Arbor to be a folk hero. Many stories could be told of Colorado hitch-hiking (e.g., being "separated from his belongings," including his guitar, in Yukon, Oklahoma), but, after some time he returned to town during the art fair, and lived in a $50/month apartment, teaching at Herb David's Guitar Studio. Hanging out with Pat Reynolds (who ran Mark's Coffeehouse along with Martha Stanger and Sharon, who drove a 58 Chevy), Michael played at various coffeehouses around town, including the Ark. Mr. Flood's Party (aka Flood's), which was to play a major part in the band's history, opened in 1969.
Michael was playing mostly holidays (when a lot of Ann Arbor folk were out of town). He teamed up with Amanda Bailey. One of their gigs was the very first benefit concert for the Ark (*****). Michael also began soloing on Friday afternoons at Flood's, taking over for a guitar player named Walter ... something. In the early days, the stage at Flood's was supported by beer kegs.
Kevin Lynch came to town and started school at the U of M. Michael started doing guitar repair work at Music Mart. There he met Bill Abbott who did electronics. Bill was later to do a lot of sound work for the band and has done sound for most of the reunion gigs.
Kevin began working at the Ann Arbor office of Music, Strings & Things on E. William above Campus Bike and Toy across the hall from Saguaro, next door to the offices of the Human Rights Party. There he met Michael and they started playing music together.
At Flood's, payment for musical services rendered was usually accomplished by means of "passing the pitcher." The first official Pitcher Passers were Barb and Craig. Since the early days, many have had the distinctly dubious honor of Passing the Pitcher and Sometimes the Hat (you know who you are). Barb, even as of today, remains the person with the most experience. In fact, it was somewhere in this timeframe that Kevin bestowed upon Barb the Silver Sombrero Award.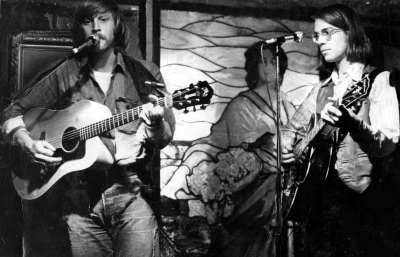 Michael and Kevin,
Mr. Flood's Party, circa 1973.
Michael, along with Mark Zimmerman, Dennis Lake, started Lake and Company, later called the Great Lakes Banjo Company (which appeared in an early Whole Earth Catalog) to build high-quality, hand-made banjoes. Kevin Lynch was an employee of said company.

Late in the year, Michael and Kevin began playing semi-regularly as a duo at Mr. Flood's Party on Liberty Street. During the following two or three years, there were many semi-regular musicians and drop-ins who played in the "band." Hence the name Country Volunteers. They include Ed "Jingles" Richmond (later went to Nashville) on bass; Fred "Too Slim" LaBour (who reportedly started the Paul McCartney is dead rumor in the Michigan Daily ( click here for a related story) and went off to join Riders in the Sky) on stand up bass; Bill Meyer, David Hardesty and Andy Sachs on piano (in that order); Eric Neihaus on drums; David Cahn, who learned to play bass and pedal steel. Ed Sugar sometimes sat in on saxophone. Andy sometimes played tuba. Western Swing music was what the by now regular Friday afternoon thing at Flood's was all about.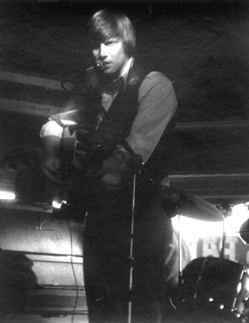 Other memorable gigs included the Moose Lodge Jamboree in Ypsilanti, the date of which escapes us (*****). (And probably not without reason!)

Later, as the band took a more definitive shape, Buzzy Klingenburger played drums. After he left town, Kathy Rasmussen played drums and sang.
*****
The Country Volunteers continued their occasional nightly shows and Friday afternoon gigs.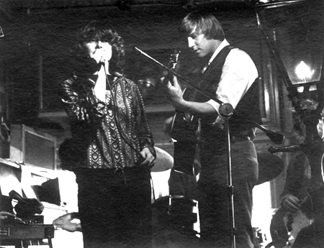 Posters for gigs and later general performance calendars for Flood's were done by Zeke Mallory of Crow Quill Graphics.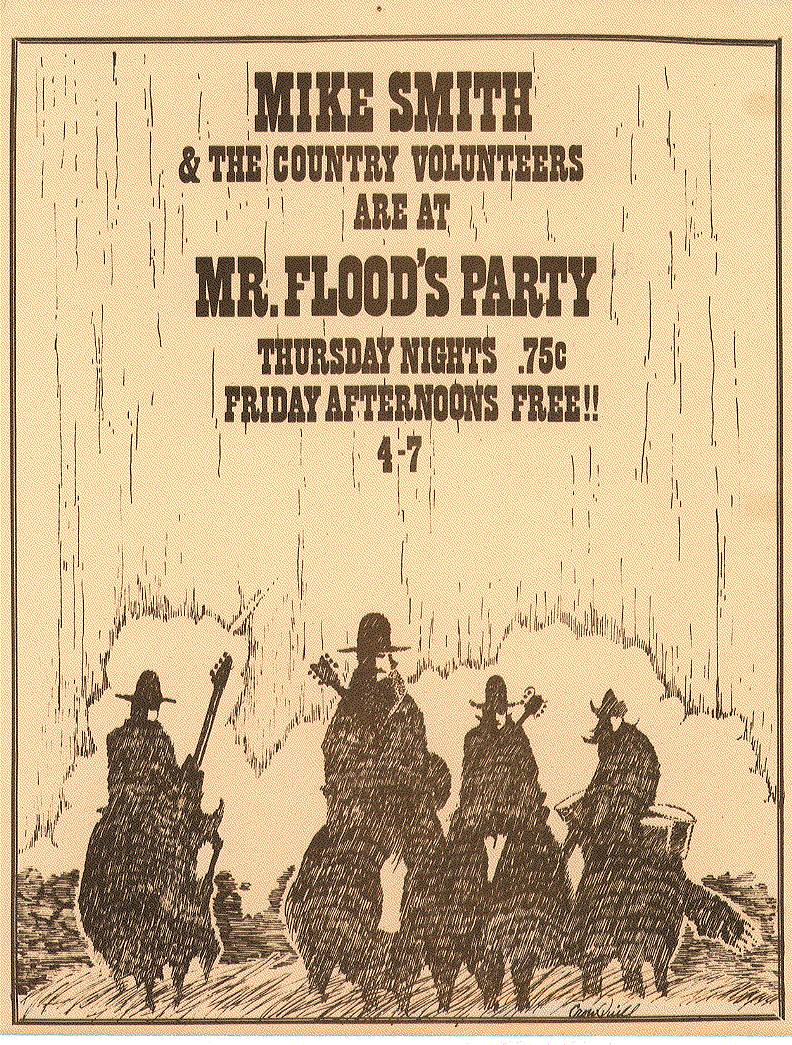 In 1976, the Country Volunteers put together an album. Recording was done in Garden City, Michigan. Roger Kasle, part owner of the banjo company, had bailed some guy out of jail whose lack of cash left no other way of paying Roger back but to give him time in his recording studio. There was a song by Bruce Phillips, one by Johnny Hodges, a couple of others and eight of Michael's. Several of the songs recorded are still done by the band when it reunites for the annual Last Performance Ever or at the occasional in town gig (such as at Ann Arbor Summer Festival's Top of the Park, local drinking establishments, and so forth) : Ride In the Country, Going Away, Someday You'll Want Me to Want You, Today We're Getting Married.

Personnel included Mike, David, Buzz, Kevin, Bill, Jingles, Kathy, Cindy Laverty, Andy, Madcat Ruth, and several others. Roger knew Bill Keith, one of the legendary names in banjo, and got him to play banjo on the album. The banjo company had in fact created a special model for Bill Keith, called the Top Tension Banjo.

Gary Munce, formerly of the Floating Opera, joined as bass player. Music continued, Western Swing with a bit of country and rock and roll, Friday afternoons.

Then there was the time Michael, Kevin, Andy, Kathy, and Gary won $10,000 in the lottery. The band was playing weekends and a regular Thursday night gig where it was paid a percentage of door. One slow Thursday night, the five split $55. Bartender at the time, Craig Pepple, suggested they buy lottery tickets with the money. Michael bought $30 of tickets at Campus Corners, where he worked and above which he lived in an apartment, won $5, invested it again and won $10,000. The rest of that weekend, the group billed themselves as the Ten Grand Band.
The Great Lakes Banjo Company finally gave up doing business. One of the contributing factors was the bad lacquer it had been sent by a supplier which required refinishing many instruments that had already been purchased. Standing behind the work, the company did the refinishing at no cost to the customer. Original low margins were eaten up.

The band continued to play at Flood's.
In September of 1978, Alan Pagliere came to Ann Arbor to go to graduate school at the U of M, and after several uninteresting gigs with several uninteresting bands, was introduced by Kay Clahassey to the Country Volunteers and concomitant musical scene and network of friends. Alan took over as pedal steelist while David Cahn moved over to bass and guitar. The band coalesced into the following form: Michael Smith guitar; Kevin Lynch and David Cahn, electric guitar; Bill Meyer, piano; Gary Munce, electric bass; Kathy Rasmussen, drums; Alan Pagliere, pedal steel guitar.

Songs of this era that are remembered with fondness include: San Antonio Stroll and Tonight My Baby's Comin' Home sung by Kathy, Wahoo sung by Bill, and My House is Your Honky Tonk sung by Kevin.
Kathy left and Buzz Klingenburger, who has been back in and out of town over the years *****, took over the drums. At some point, *****, David and Bill moved out to the Seattle area and Buzz moved out to California. ***** Don Kuhle took over the drums.

Somewhere around this time, *****, the Cadillac Cowboys, or some strange pick-up version of it, along with Dave Menefee and Steve Newhouse, opened for Commander Cody and the Lost Planet Airmen at The Second Chance, now known as the Nectarine Ballroom.
June 21, 1980, the band played at the K of C Campground at a party to celebrate Harv and Barb's wedding the day before. Many will remember that night.
The regular Friday afternoons at Flood's continued. One particular afternoon that Alan has not yet forgotten was the time the band was just getting ready to play, the stage was nearly set up. He turned quickly, brushed up against his steel guitar, and then .... For more on this story, not for the faint-hearted, click here: Rolled Steel: The Day the Earth Stood Still.
There once was a little girl named Megan Hooper, who insisted Michael "Sis" be at her third birthday party. However, her birthday was Friday, and we all know where Michael "Sis" was on Friday afternoons. So, on April 18, 1980, the birthday party was taken to Mr. Flood's Party. Megan may very well be the only three year old to ever celebrate her birthday at Flood's. By the way, that three year old is now about 29 and has a band of her own, playing "rock with industrial overtones". They have their own CD and finish every gig with an "industrialized version of Ghost Riders." Clearly, the Cowboys had some influence on a little girl at an impressionable age. It is rumored that the birthday cake was triple chocolate with three candles.
After years of Friday afternoons, the tradition that had evolved came to an end (albeit a temporary one). On July 30, 1980, Flood's closed its doors. The last week of business saw a parade of Ann Arbor musicians giving what one might conservatively call rousing performances. The second to last night had Mike Smith and The Country Volunteers (by this time with essentially the same personnel as Kevin Lynch and the Cadillac Cowboys) give a memorable farewell concert. It was very hot that July night. ...their shirts all soaked with sweat... (sounds like a line from a song ...).

The music scene stumbled a bit in Ann Arbor during this time. Other bands felt the hole left by the closing of Flood's, but perhaps none so much as the CV/CC. There certainly weren't too many places to play Western Swing in Ann Arbor. Still aren't.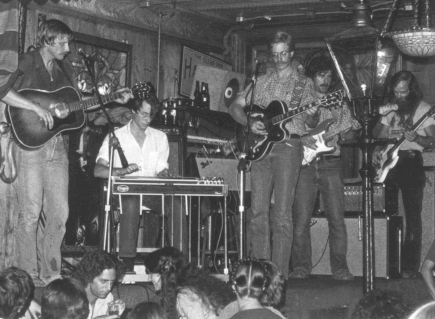 Q: Can you remember that night? Or perhaps it would be better to just ask: do you know the date? A:It was July 29, 1980.
Quiz: Can you name all members of the band
and at least two of the audience members?
Email Alan with your answer.
1980 and 1981 were packed with music. Mike Smith and the Country Volunteers would play the Friday afternoon thing at Flood's from 5-7:30. Kevin, Alan, and Don would then pack up and mosey over to Joe's where they would join up with Tom Wise on bass and transform into the then current version of the Kevin Lynch and the Cadillac Cowboys for a 9 pm to 2 am stint. Good for the chops.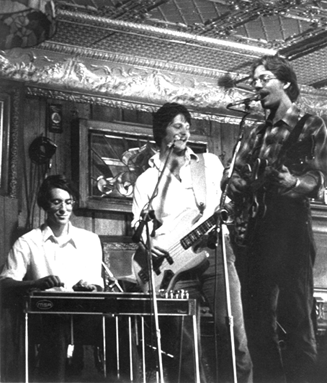 In the summer of 1981, the band played at a party held at Park Road, coinciding with the annual gathering of the (in)famous Bobby Sox & the U-Trou. The night reminded some of a kind of tent city. This event saw the first perfomance of Six Pack To Go by the usually non-vocal pedal steel player. He has come far enough that this tune is even included in the band's CD a mere 19 years later.
In the fall of 1981, Flood's reopened. The band started up again; same time (5:00 - 7:30 pm every Friday), same scene. In October of 1981, Alan moved to Kyoto, Japan and Gary Hussar took over the pedal steel role.
*****
About this time, Joe Tiboni, that man about town, took over what had been the theretofore rather sleazy Star Bar, converting it into the classy Joe's Star Lounge. The May 28, 1982 edition of the Ann Arbor News had an article by S.F. Nelson (with photo by Rick Lieder) describing the imminent move to Joe's.

The band (now with Michael, Kevin, Gary Munce, Pete Falkenstein, Don Kuhle on drums and Gary Hussar on steel) made the move to Joe's in June. Friday afternoons were reinvented with little difficulty. Now, there was a dance floor to boot. Alan, back from Japan, took a while getting his fingers and toes back again into the pedal steel thing but soon was back riding with the Cowboys..


Somewhere in the summer of 1982, the CV/CC band played a benefit gig for the Alternative Review up in Schwaben Hall. Those who can remember the night recall much fun, frolic, food and drink, dancing, and the like.
Around September of 1983, Hugh Huntley, who had been playing in various other bands with Pete, joined the Cowboys as drummer. He's been with the band ever since.


The Country Volunteers continued to play Fridays at Joe's until it closed in sometime in 1985.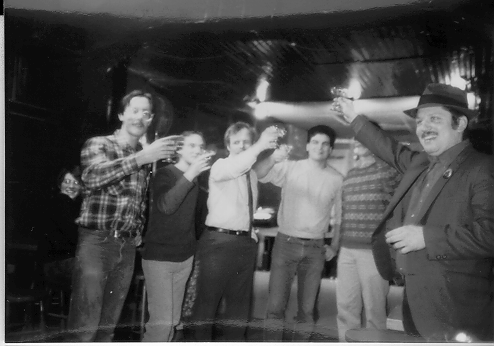 From Joe's, it was off to the only other possible place to play in town for a band like this, The Blind Pig. The Pig had gone from the cool, intellectual hang-out with occasional blues in the basement, to a reasonably hip, occasionally bordering on the rowdy, music bar. A recently installed stage in a recently extended back room saw Friday afternoon gigs continue. The mood was slightly different, but the band, the music, the regulars (i.e., the audience) were all still there. Keeping up the Friday evening wind-down with friends.

In the November, 1985 issue of The Ann Arbor Observer, appeared a great photo of the band taken on the railroad overpass on W. Washington Street. (Unfortunately, it is unscannable from the newsprint, so if anyone remembers who took that shot, please send me e-mail with a name.) Along with the photo was the following note:
"Every Friday 5:30-8:00 pm, Kevin Lynch and the Cadillac Cowboys. Spirited country swing and affecting country ballads featuring vocalists Lynch and (occasionally) Mike Smith. A Friday afternoon institution in Ann Arbor for more than a decade."
That about sums it up.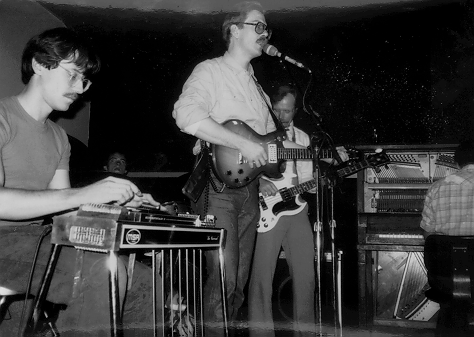 In 1988, Alan thought it would be a good idea, since the band hadn't played in a couple of years or so, that we should have Kevin and Pete come back into town for a weekend for a reunion of the band. It was to be a Swan Song, a Last Performance Ever. The rest is history. Actually, if you think about it, pretty much all of it except for the next "Last Performance Ever" is history. Get yourself updated to the present by looking at a history of the reunions.
In 1997, Kevin took a job in Saipan. So he hasn't made the last few Reunion Gigs (though he did make one!). We took on Kelly Schmidt as guitar player. He's the man with the eclectic guitar you hear on our CD. The band started playing more than it had in a decade: gigs at the Top of the Park, the Webster Township Fair, local clubs.
In 2001, our guitarist Kelly decided to go back to his roots as an acoustic musician, concentrating on his primary instruments, the mandolin and Dobro. Once again on the look out for a guitarist, We tried a couple and have been thrilled for a good time now with Jim Larzalere who has very easily embraced the Cowboy musical culture.
Liz Stern, wife of drummer Hugh, or Cowboy Liz as we sometimes like to call her, joined the band to sing a few great songs. Full Moon Full of Love, She's Got You, Waltz Across Texas, and Cold, Cold Heart.
For the third time, The Cavern Club in Ann Arbor, after booking several bands for several months, cancels its Friday Happy Hour and throws said several bands' plans into chaos. The Cowboys begin playing at the Heidelberg Restaurant's Club Above.
In 2007, Jim left the band and Kevin Brown of Corndaddy and formerly of Steve Newhouse's Nukabillies has been sitting in with the band. The band continued its tradition of reunions, this year's being the 20th Annual Last Performance Ever.
In 2010, the Heidelberg Club Above turns into a poker joint and bands again scramble for a place to play. What ever happened to the almost back from the dead music scene in Ann Arbor? Live music? Who needs it? Anyway, Gary, Randy T and Chris G get together and find another place to play. The Cowboys start gigging at the Happy Hours at Live at PJs. A Top of the Park gig is in the near future as well.

If you help add to the collective memory. Send notes and memories to Alan.